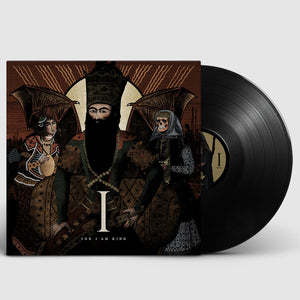 For I Am King - I - Black Vinyl LP (2018)
Regular price €19,99 Sale
Inkl. MwSt. zzgl. Versandkosten // Incl. tax plus shipping
Lieferung (Deutschland): 2-4 Werktage // Delivery (Germany): 2-4 working days
First vinyl pressing:
300 x Golden Vinyl
Second vinyl pressing:
200 x Black Vinyl
All sleeves are printed with special gold print and include a download code

The uniqueness of the Dutch metal band FOR I AM KING is best described by the introduction of the new I-factor, a 3.0 variant of the much sought after X-factor.
The I is the ninth letter of the modern Latin alphabet and it has importance in the fields of mathematics and chemistry as well. In addition, I is the symbol for electric power and it stands in abbreviations for international.
With FOR I AM KING, the I-factor (except the I in the band name) lies in the combination of the musical components: modern, complex, furious but always catchy metal with capturing melodies, supplemented by the unique vocals of the front woman and eye-catcher Alma Alizadeh.
But there are also the personally and socially engaged lyrics, the outward appearance (artwork, photos, videos) and especially the explosive live shows that enthuse FOR I AM KING's audiences wherever they appear.
Track list:
1. Prey
2. Forever Blind
3.Home
4. Misery
5. Invidia
6. In Flames
7. The Reaper of Souls
8. Devotion
9. In Memory
10. Havoc