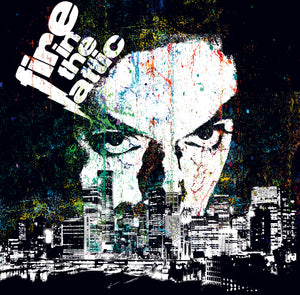 Fire In The Attic - I'll Beat You, City - Vinyl LP (2006)
Regular price €9,99 Sale
Inkl. MwSt. zzgl. Versandkosten // Incl. tax plus shipping
Lieferung (Deutschland): 2-4 Werktage // Delivery (Germany): 2-4 working days
In 2006 the Chinese say it's the year of Dog and of Fire. Year of Fire? It seems like both terrestrial and extra-terrestrial signs are predicting the inevitable: 2006 will be Year of FIRE IN THE ATTIC !
From February through March, the highly anticipated sophomore full length record "I'll beat you, City!" was arranged and recorded with the help of producer Martin Buchwalter (Gernhart Studio), who also accounted for the outstanding sound of the two preceding records.
The process of mastering the album was put into the experienced hands of Michael Schwabe (Monoposto Mastering), who has already worked for top acts like "Die Toten Hosen", "Beatsteaks", "Wir sind Helden", "Mad Sin" or "Kettcar".
What started out with sleepless nights and headaches, suddenly turned into an inexhaustible wave of creative energy: "It was hard work. We wanted to do the right things and these things right, live up to our own expectations and particularly try out some new kinds of structures. We are completely satisfied with the outcome and cannot wait to finally present the new material to a live audience." says lead vocalist Ole.
"I'll Beat You, City!', FIRE IN THE ATTIC's second full length record. A compilation of 12 songs, bursting with energy, independence and self-confidence. 38 minutes and not a second to rest.
Year of Fire: There is no way to escape FIRE IN THE ATTIC .
Track list:
1. Being Victimized Is A Two Way Street
2. Bonfire Now
3. One Problem And Counting
4. An Audience Of One
5. Wiretapping With Benefits
6. The City
7. An Ode To Self Defense
8. At Gunpoint, At Stake
9. Three, Two, Square One, Go
10. Deaf Mute Blind Passenger
11. Eight Six It All
12. DulyNoted