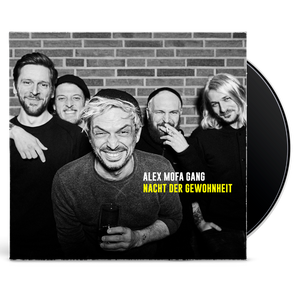 Alex Mofa Gang - Night of Habit - CD (2022)
Regular price €16,99 Sale
Inkl. MwSt. zzgl. Versandkosten // Incl. tax plus shipping
Lieferung (Deutschland): 2-4 Werktage // Delivery (Germany): 2-4 working days
CD in digipak.

On their last album, ALEX MOFA GANG called themselves, without any irony, the loudest pop band in the country. This claim is further underlined with "Nacht der Habit" in that on their fourth album the gang allows for even more influences that each individual member brings with them and is thus even more stylistically broad. So you no longer get involved in discussions about the purism of some listeners, but instead extend your hand with a smile to everyone whose horizons are even a little wider: "Bidde, here is the ALEX MOFA GANG for you!" – handmade and from the heart.
Track list:
1. Fake
2. Always with you
3. Can you even call this breakfast anymore?
4. Madeleine
5. No land in sight
6. Ass bomb
7. Monsters
8. Hold on tight
9. I love you too quietly
10. What remains at the end
11. Don't worry, Mom!
12. How long is forever
13. She never dances alone for long
14. King the Lion
Please note: The final product may vary slightly from the image shown here.