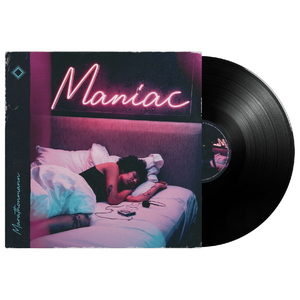 Marathonmann - Maniac - Vinyl LP (Black Edition / 2023)
Regular price €24,99 Sale
Inkl. MwSt. zzgl. Versandkosten // Incl. tax plus shipping
Lieferung (Deutschland): 2-4 Werktage // Delivery (Germany): 2-4 working days
The new album "Maniac" on limited vinyl, including download code and lyric sheet. The record comes packaged in a box bag and a padded, black inner sleeve.
First vinyl pressing:
334 x Black
333 x Violet Transparent (Redfield Exclusive)
333 x Curacao Transparent

"Maniac" is a constantly breathless but also liberated synth-rock ride amidst neon-lit 80s aesthetics, spot-on production and streamlined songwriting.
MARATHONMANN are no longer the same and yet they haven't changed direction on their fifth studio album. Rather, the band consistently continues on their path.
The four people from Munich would never think of putting their own past into perspective, but in addition to their love for punk rock, their hearts also always beat for the synth-driven rock of the 80s and just as much for the aesthetics of bands and films embody from back then.
"Many inventions from back then have shaped our sense of aesthetics: home consoles, VHS, music videos, instruments, MIDI and of course fashion. It was a time of change, it still fascinates us - we feel like children of that time. We love the films, the music and the vibe," says guitarist Leo. Maniacs of 80s culture.
Track list:
Maniac
Fire
Auryn
diamond
1985
One room life
You are the night
Clock Tower
Alone in the Dark (with Lana from KOCHKRAFT DURCH KMA)
Tie Fighter (with Mike from MAFFAI)
Haze
almanac
The Void
Out run
Please note: Final product may vary slightly differ from the illustration shown here.