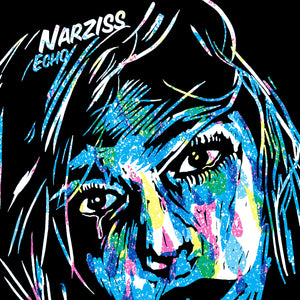 Narziss - Echo - CD (2009)
Regular price €4,99 Sale
Inkl. MwSt. zzgl. Versandkosten // Incl. tax plus shipping
Lieferung (Deutschland): 2-4 Werktage // Delivery (Germany): 2-4 working days
NARZISS are an already established act in the German music scene. A combination of one of a kind German lyrics, an outstanding feel for melodies and a heavy dose of aggressiveness is the basis for their musical realm, which has helped the five-piece from Jena over the last 10 years to expand their fan base reach their current status.
The band made its first impression with the release of their 2000 mini CD 'Ebenbilder'. NARZISS became one of the most influential bands in the German metalcore scene. The subsequent releases 'Die Hoffnung stirbt zuletzt' (2002) and 'Neue Welt' (2004) gained the band more and more celebrity and publicity. After their last successful release 'Solang das Herz schlägt' (2006), which was well received by both the media and the fans (and which generated the single 'Und du verblasst', which entered the German club charts), NARZISS are now ready to take over.
The new album 'Echo' adds a breath of fresh air and a captivating atmosphere to the band's existing strengths without cutting into the level of power and emotion. Songs such as 'Maskerade', 'Ita Est' and 'Rätsel' are probably the best songs the band has written to date. Together Alexander Dietz (ROH, Chemical Burn – Audio Solutions, Heaven Shall Burn), who was also highly involved in the vocal-recordings, Ralf Müller and Patrick W. Engel of Rape Of Harmonies and with score composer Patrick M. Schmitz (Enjottt Schneider, Munich) a moving and captivating piece of art was created.
Track List:
1. Tränen
2. Hoffnungslos
3. Der achte Tag der Woche
4. Ita Est
5. Mein neues Leben
6. Beschlagene Gedanken
7. Maskerade
8. Rätsel
9. Gewalt der Worte
10. Mein brennend Herz
11. Asche
12. Perfektion