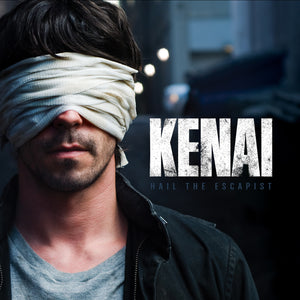 Kenai - Hail The Escapist - CD (2010)
Regular price €4,99 Sale
Inkl. MwSt. zzgl. Versandkosten // Incl. tax plus shipping
Lieferung (Deutschland): 2-4 Werktage // Delivery (Germany): 2-4 working days
Essex' musical past is littered with rock and popstars of international fame, whose musical prowess has flourished here on the British east coast. Just think of Depeche Mode, Bloc Party, The Prodigy and Iron Maiden, to name a few. And Essex' scene is still active, the most current proof of this activity being KENAI who are now releasing their debut album "Hail The Escapist" on Redfield Records.
The six found each other, according to singer Dan, "in the tight-woven music scene of Essex through our shared love for rock music. No one really remembers when that happened, but, our activities as a band began somewhere in 2006 with the same line-up that exists today."
They started the band with a common denominator as far as musical taste was concerned - their influences range from Underoath to Paramore -, and were able to fathom their own sound pretty quickly. But in no time at all this just wasn't enough for them. "At the beginning we made music which we wanted to listen to ourselves, which is why our previous EPs "Ideas Are Bulletproof" (2007, self produced) and "At Mercy's Hand" (2008, Redfield) are Post-Hardcore in the broadest sense - without sticking to conventions. But with our debut album we strived to push into another vast area, always trying to incorporate as many innovations as possible without growing away from ourselves completely. That's why it's so hard to label us with the bands' current range of influences".
Track List:
1. They Survived, Only To Consume Each Other
2. Hostages
3. Rest Unassured
4. Let Go
5. Manhattan
6. Bleed The Year
7. They Fall Before The Finish
8. Say What You Want
9. Brothers, To Arms
10. Everything We Had, We Gave