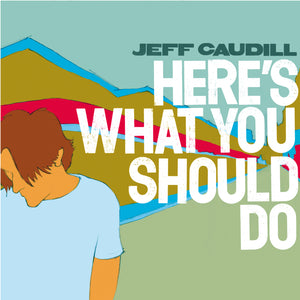 Jeff Caudill - Here's What You Should Do - CD (2005)
Regular price €4,99 Sale
Inkl. MwSt. zzgl. Versandkosten // Incl. tax plus shipping
Lieferung (Deutschland): 2-4 Werktage // Delivery (Germany): 2-4 working days
Born a fortunate son of Orange County California, singer/songwriter JEFF CAUDILL began his musical endeavors straight out of high school as singer/guitarist for influential emo pop punk quartet Gameface. In their thirteen year career they released five albums and a handful of singles and blanketed the US and Europe, earning a dedicated following.
"Leave it to lead guitarist/vocalist Jeff Caudill to come up with another strong batch of songs... his uncommonly emotive vocal presence gives Gameface an approach unparalleled in his field." - The Big Takeover
His loyal fanbase identifies most with, "Jeff's sincere vocals and lyrics with the perfect blend of indie pop, melodic rock and subtle country twang..." - Impact Press
"Caudill comes through with winning, heart-on-sleeve urgency and sincerity that can be called to mind Bob Mould, Live or Pearl Jam." -Los Angeles Times
Two years after the demise of the band, 2005 finds Jeff Caudill settling into his groove as a songwriter and leaves no stone unturned on his first proper solo album "HERE'S WHAT YOU SHOULD DO" , which reflects his influences from alt. country to indie rock to power pop.
Track list:
1. Favorite Version Of Your Life
2. Stop writing songs
3. Destination
4. Nite Lite
5. Never Been High
6. Then There's Me
7. Crazy People Do
8. ChangeEverything
9. Worn Out Welcome
10. Getaway Car
11. My Side Of The Bridge
12. What You Deserve
13. I Just Disappear
BONUS TRACKS:
14. Stop Writing Songs (acoustic version)
15. American High School