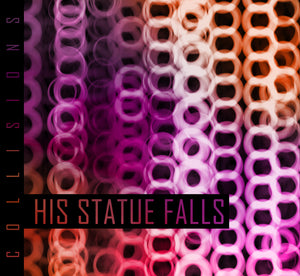 His Statue Falls - Collisions - CD (2010)
Regular price €4,99 Sale
Inkl. MwSt. zzgl. Versandkosten // Incl. tax plus shipping
Lieferung (Deutschland): 2-4 Werktage // Delivery (Germany): 2-4 working days
The debut "Collisions" combines all strengths of HIS STATUE FALLS : Mighty guitars, crystal clear hooklines, hammering beats supported by driving techno-elements, and enriched with a proper portion of mosh and breakdown. A delicious dish which is worth to be tasted by all music fans.
But HIS STATUE FALLS are not only transporting their techcore into the world with their album. Their energetic and captivating stage show makes every concertgoer dance and encourages you to party until the sweat drops from the ceiling.
Since their short existence HIS STATUE FALLS could already prove their skills with bands like Enter Shikari (UK), Across Five Aprils (US), The Maple Room (BE), Dividing The Line (UK), Hand To Hand (US), Raised Fist (SWE) and many more.
Track list:
1. Let's Get Crackin'
2. Capital H, Capital O
3. Jasmin W. Knows How To Mosh
4. Give It Up! Give It Up!
5. Interlude One
6. Sooner If You Let Me
7. You Need To Hit To Spell Shit
8. If Shakespeare Had A Myspace Profile
9. Interlude Two
10. A Headless Crow Can't Bite
11. Does Any Of You Guys Know Why For God's Sake Every Band On Earth Gotta Have Long Songtitles
12. Bury My Shell At Wounded Knee