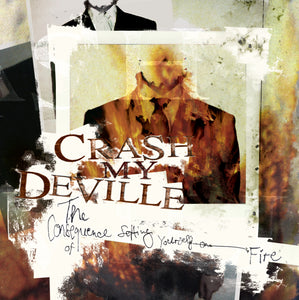 Crash My Deville - The Consequence Of Setting Yourself On Fire - CD (2006)
Regular price €4,99 Sale
Inkl. MwSt. zzgl. Versandkosten // Incl. tax plus shipping
Lieferung (Deutschland): 2-4 Werktage // Delivery (Germany): 2-4 working days
Throw together some Hardcore, Metal and Screamo and shake them well. Suddenly CRASH MY DEVILLE are standing in front of you, expressing very precisely what they have to say on their new album 'The Consequence Of Setting Yourself On Fire', they draw the bow as far as it will go to then discharge it with their melodies and a deep rumbling.
On their debut album the four guys from Saarland captivate their listeners with an own blend of delicate brut force and powerful catchyness. The band has been active since late 2002 and after thousands of kilometers on the road are not just known in Germany but also abroad for their gripping and uncontrollable live shows with among others Biffy Clyro, Bleed The Dream, Destiny, Donots, Misery Signals, Piebald , Since By Man.
Strength and elegance find their perfection and release themselves in ten songs which will run over every listener unasked. The harmony and the harsh emotional honesty of this quintet does not care about musical attitudes but are a yell into the depths of one's own soul.
Track list:
1. The Warm Taste Of Human Failure
2. I Wish Your Heart Was As Big As Your Record Collection
3. Your Seduction vs. My Sense Of Self Esteem
4. An Essence Of Your Devastating Performance
5. The Consequence Of Setting Yourself On Fire
6. At Least We're Part Of Your Pathetic Little Nightmare
7. Sorry For Breathing Too Hard
8. If You Learn How To Smile I Learn How To Break Faces
9. Prince Charming Has Left The Building
10. Add Now To Here For Nowhere