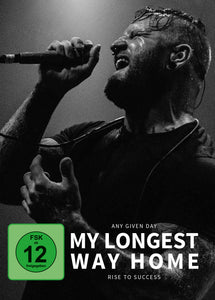 Any Given Day - My Longest Way Home - DVD (2016)
Regular price €9,99 Sale
Inkl. MwSt. zzgl. Versandkosten // Incl. tax plus shipping
Lieferung (Deutschland): 2-4 Werktage // Delivery (Germany): 2-4 working days
Director Mirko Witzki accompanied the German metal band ANY GIVEN DAY for three years and documents their way from the very beginnings up to the grand final on the main stage of the renowned Summer Breeze festival.

With their version of the Rihanna hit 'Diamonds' the five musicians from the heart of the German Ruhr Area were able to gather millions of clicks on YouTube. For years they had been playing in rather unknown bands and suddenly a song put them in the centre of a great attention. From the point of being popular overnight, they started a long journey and not only conquered the clubs with their own compositions but also enthused the crowds in front of the big festival stages.

Mirko Witzki takes a look behind the curtain and lets the members of ANY GIVEN DAY as well as their team speak their minds. He documents the rampant way and follows the band to the release of the debut album 'My Longest Way Home' that surprisingly entered the German album charts on position 28.

Not only for fans this is a great look behind the scenes of the music industry and a band that gets the chance to carry its music far beyond the borders of its home coun- try.
INFOS

Run-time: 01:26:04
Run-time bonus chapters: 00:17:47 
Subtitles: German / English
Language: German / English (dubbing) 
Genre: Documentary, Musik, Metal FSK: 12