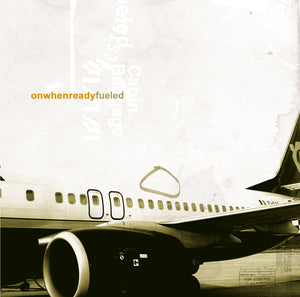 OnWhenReady - Fueled - CD (2004)
Regular price €4,99 Sale
Inkl. MwSt. zzgl. Versandkosten // Incl. tax plus shipping
Lieferung (Deutschland): 2-4 Werktage // Delivery (Germany): 2-4 working days
FUELED! That's the name of their second album and as a result of new experiences, hard work and a change of guitar players this charming quartet produced 12 complex songs full of energy where catchy melodies meet fast guitar riffs and hammering drums; there's much variety in there, because of its power on the one hand and sensitivity at the same time on the other.
FUELED means a huge step forward, just like one could have expected of ONWHENREADY. And again we have had a professional production under the supervision of experienced people like Markus Schlichterle and Jörg Siegeler, who already produced well known German bands like Crosscut a.s.o.
Since their debut TRY HARDER was released in 2003, ONWHENREADY was all about playing live and after more than 70 shows all over Germany, one could wonder, how these guys managed to produce such a great album. They have played everything from small club shows (e.g. with: Underwater Circus; That Very Time I Saw; The Underwater (USA); Daylight; Seed`n`Feed (IT); Mournful; Ransom; The Ordinary Me; A Case Of Grenada; Fire In the Attic) with hundred people to festivals (e.g. Bochum Total; various campus festivals) with thousands of people.
And now their second release FUELED including a two weeks promotional tour all over Germany with their label mates Fire In The Attic. Everything goes!
Track List:
1. Miss Mess
2. The Other Side
3. Right On
4. Kennex
5. Nothing In The End
6. With Deepest Regrets
7. How Did It Break
8. Welcome Anyone
9. Quiet Makes Noise
10. C Ya In Hell
11. Break Through
12. This Is Odd