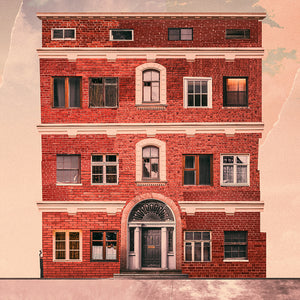 Living With Lions - Iceland - CD (2018)
Regular price €14,99 Sale
Inkl. MwSt. zzgl. Versandkosten // Incl. tax plus shipping
Lieferung (Deutschland): 2-4 Werktage // Delivery (Germany): 2-4 working days
'Island' was released through Redfield Records in Europe, No Sleep Records in The US, Bloom Records in Canada and Ice Grill$ in Japan.
Shipping starts around September 14. This product can only be shipped to UK/Europe.
Available on vinyl (limited first pressing with download code: 500 black and 600 cloudy clear with pink opaque) with die-cut cover.
Since 2009, LIVING WITH LIONS have been making waves around the world with their trademark dynamics and anthemesque melodies. After releasing their sophomore studio album, 'Holy Shit' in 2011, they toured extensively.

After the departure of frontman Stu Ross in early 2012, many questioned what that would mean for the future of LIVING WITH LIONS – Chase, Landon, Loren and Bill did not. "It was a big decision, but not a hard one. There was so much more we wanted to accomplish as a band," says Chase Brenneman. With founding member Brenneman moving to lead vocals and long-time friend Craig Spelliscy joining on guitar, the Vancouver five-piece began to hit the road once more. With the release of a 3-song EP and stints across Europe, Australia, Asia and North America through 2014 and 2015 the band felt re-energized.

In 2016, the band went into the studio to begin work on their third effort, 'Island'. Recorded by Stuart McKillop at Rain City Recorders and mixed and mastered by Kyle Black at Alley Studios in Los Angeles, it was a rebirth says Brenneman.

2018 will prove to be a big year for LIVING WITH LIONS. With their new full-length album now complete and due out in the fall on Redfield Records in Europe, No Sleep in The US, Bloom Records in Canada and Ice Grill$ in Japan, the group looks to get back to what they truly enjoy the most, playing music together.
Track list:
1. All The Same
2. Second Narrows
3. Tidal Wave
4. Dusty Records
5. The Remedy
6. On A Rope
7. Interlude
8. Plastic Flowers
9. Night Habits
10. Hastings Sunrise
11. Another Ordinary Summer
12. Iceland