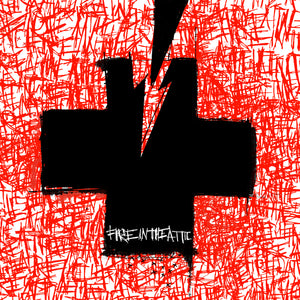 Fire In The Attic - s/t - CD (2009)
Regular price €4,99 Sale
Inkl. MwSt. zzgl. Versandkosten // Incl. tax plus shipping
Lieferung (Deutschland): 2-4 Werktage // Delivery (Germany): 2-4 working days
Just one word. But half a year ago it didn't take more than that, to describe the situation of a band that has made German music history in spring 2008.
There are a lot of reasons that you need more words to describe the status quo of FIRE IN THE ATTIC in 2009. One is named Thomas Prescott and is 20 years old!
Dennis Meyer, bassist of FITA, explains the circumstances which include superstition, pressure and keyboards: "Tom was the keyboarder with KENAI, an English band, which also signed to Redfield and which supported us on tour in the summer of 2008. We noticed from the very first moment that Tom wasn't the usual keyboarder-type; he was acting like a frontman. It was by chance that, after Ole quit the band and we decided to carry on, we got an email informing us that Tom quit playing with KENAI. Everything went really fast after that and in the next moment we were on stage at the Highfield Festival together with Tom."
And there was another "first" in the band's history. FITA entered the studio for the first time with completely finished songs. Since Tom is still living in the UK, the band did their work first. They sent Tom the demos, he finished and completed them, added his ideas and flew over a couple of times to rehearse with the band and help the band grow not only in a musically way.
"We were pretty surprised how fast Tom was able to identify himself with FITA. You could notice that he preferred being a frontman instead of a keyboarder. FITA has always worked best under pressure. The other three records were all written under the pressure of time and it seems that this is the only way how we can actually work as a band, even though that pressure has changed with Tom."
Needless to say, even though a keyboard player is now part of the band, keyboards still don't play a major role within the sound of FITA. That can also be said for other instruments. Tom wasn't the only new thing...
"There were a lot of new ideas along with new possibilities to put these ideas into action. We included Tom's potential as a songwriter from the very beginning of the recording process. We started to experiment with different instruments for the first time as well; we used an accordion for example. That was only possible because we were very well prepared. Still, we didn't want to change the face of FITA too radically, you'll find some songs on the record that could also have been on the last record ."
The result is a record which stands for itself and does not need a name apart from the band name.
"We did everything we wanted to. We were never able to identify ourselves with a record that much before. The record ranges from 90 seconds punk rock tracks to longer epic tracks. We always had the rule to never record an album twice but with "Fire In The Attic" we haven't only made a huge step musically, we also walk faster. It could mean that not everyone can get into the 12 songs too easily."
12 songs? Not really, 12 was yesterday, today is 13. Dennis smiles: "We've been very superstitious; we would have never done a 13-track record. We would also put all controllers to 12 and 14 to avoid bad luck." This time is over now, that is why the record is going to be released in Germany on a Friday, 13th.
End.
Track list:
1. Are we there yet?
2. Running with scissors
3. Wide exes
4. Heartbeats for paychecks
5. Clockworks
6. Emergency exit
7. The failure part I – the nightmare
8. The failure part II – the hangover
9. A call into arms
10. Sinking (relationship)ship
11. Call it quits
12. Imperfection is Infinite
13. Shapeshifting mountains