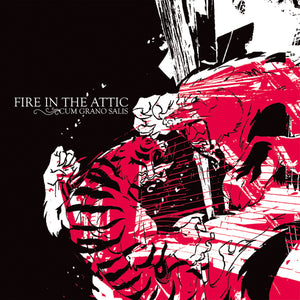 Fire In The Attic - Cum Grano Salis - CD (2008)
Regular price €4,99 Sale
Inkl. MwSt. zzgl. Versandkosten // Incl. tax plus shipping
Lieferung (Deutschland): 2-4 Werktage // Delivery (Germany): 2-4 working days
Two years have passed since the last FIRE IN THE ATTIC release and now the time has finally come: They stop by, greeting affably in order to turn every stereo as well as all former expectation into ashes and dust, after the play button has been pressed.
The five guys from Bonn, Germany have used the last two years to establish themselves through massive and never-ending (live-) presence in the Rock Scene while on the other hand taking their time to find a new answer to the question how rock music in 2008 has to sound. Far from any stereotypes, miles away from boring plagiarism and without any fear of incorporating various styles, they are now even more powerful, grown-up and catchy, and above all simply better than ever.
Generally that seems to be the point about the constant change inside the FIRE IN THE ATTIC cosmos: Inside the may edition of the German music magazine VISIONS Redfield Records will publish the new record completely in an up to now unprecedent campaign. Two days later "Cum Grano Salis" will be available in regular shops. This CD-Version comes with a 5-Track bonus EP and a 28-paged cover in special colors with beautiful artwork by comic-artist Sascha Salz.
Track List:
1. Electric Arc
2. Senses Riding Shotgun
3. Benchwarmer
4. Sleep! Don't Breath!
5. B.Y.O.O. (Bring Your Own Organs)
6. Fake It Like You Mean It
7. Readapting
8. Cheers To You, Mrs. Ford
9. Gilgamesh, What Have We Done?
10. The Cocoon
11. There's A Leak!