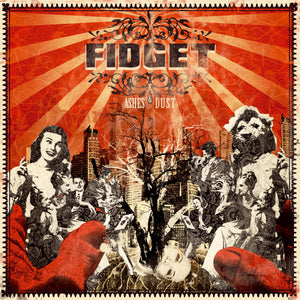 Fidget - Ashes & Dust - CD (2008)
Regular price €4,99 Sale
Inkl. MwSt. zzgl. Versandkosten // Incl. tax plus shipping
Lieferung (Deutschland): 2-4 Werktage // Delivery (Germany): 2-4 working days
"FIDGET is renowned to be the most light-footed Alternative Rock in Germany" – as quoted by Visions Magazine (one of Germany's biggest rock-magazines) to their previous album 'The Merciless Beauty'. Düsseldorf's quintet come from a very situated, decent type of rock music, too special to be classified into one rock gender – they were then, compared to all possible bands since after the release of their 'Dixon' EP.

We now take a blast at 2008, and FIDGET acknowledges this bang with their 'Ashes & Dust' album to be a new beginning. Their new sound of rock sounds matured, independent, and fresher than ever. They didn't however lose their agility to this album. 'Ashes & Dust' is the band's milestone after 9 years of playing together and touring the whole of Germany's grounds and the rest of Europe with fortified ambition, longevity and freedom to exist.
Each song in this album is with ingredients that is needed for a moving melody, and drastic riffs that would turn screws in your head, and bring you to their own law of time. FIDGET didn't let moments pass without capturing it to translate it into the sounds that they have now ready, the 'Ashes & Dust'. Every song is produced and recorded by themselves piece by piece, captured in moments in their own studio.
Whoever saw FIDGET live on their 400 shows (e.g. Incubus, Lostprophets, Beat- steaks, Donots and many more) experienced a band who loves what they are doing on stage, with an explosively confident live show. Only when a band feels what they are playing, can the sparks start to verve – in small clubs with 30 people, or at a huge festival like "Pzystanek Woodstock Festival" (Poland) in front of a 300.000 audience.
Track List:
1. Holy Grail
2. All Seems Meaningless
3. T ake Or Leave
4. Far From OK
5. Stalewater
6. Choke On The Promise
7. Inferia
8. 5 Min Left
9. You will go down with me (Seemann)
10. Shivinho
11. The Latest Try On Old-School Pain
12. ...And Nothing More